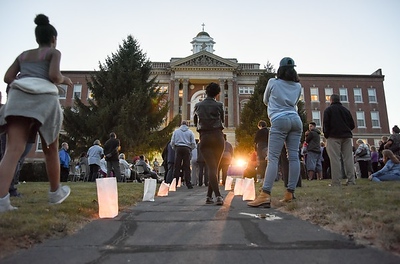 Author: Erica Drzewiecki; New Britain Herald
Published: April 22, 2020
When home is where the hurt is, 'Stay Safe, Stay Home' has little meaning.
Luckily, for victims of domestic violence, there are still open shelters and resources available, even during the COVID-19 pandemic.
"We continue to be on the front lines as our service is open and available 24 hours a day, seven days a week," said Barbara Damon, executive director of the Prudence Crandall Center.
The organization provides emergency shelter, transitional and supportive housing to victims of domestic violence hailing from New Britain and Bristol, and towns in between, including Southington, Plainville, Berlin and even as far as Plymouth.
Staff has remained on-site in Prudence Crandall's emergency shelter and others working remotely continue to provide counseling over the phone, by video chat and email.
"We're finding that the greatest increase in need right now has been for help with basic food and supplies and funding to meet monthly expenses," Damon pointed out. "So many of our folks we serve have either lost a job or lost their childcare and are really struggling right now."
Families living in Prudence Crandall's shelter have separate bedrooms and can safely distance themselves. Other survivors have remained in housing at undisclosed locations and some are staying in hotels for the time being.
"This is a time filled with anxiety and stress for all of us, but particularly those experiencing the trauma of abuse," Damon pointed out. "There is a lot of need for emotional support and counseling at this time."
Prudence Crandall's most pressing need right now is financial.
The organization's annual fundraising dinner was postponed along with all other large group gatherings and events. Unforeseen expenses due to the novel coronavirus have also posed a challenge.
"Every year we rely on the community to fund about 30 percent of our operating budget," Damon explained. "We need to raise $650,000 to meet our current needs. We need the community now more than ever."
The center has received donations of face masks and meal deliveries. Monetary donations are strongly encouraged at prudencecrandall.org.
Other agencies that help victims include the Connecticut Coalition Against Domestic Violence (CCADV). CEO Karen Jarmoc was one of several panelists to speak during a virtual conference this week.
When the pandemic began in early March, Jarmoc said, domestic violence shelters were already at 130 percent capacity across Connecticut.
The CCADV runs CTSafeConnect.org, an online resource where victims of violence can seek help. It's being utilized even more now that victims are forced to be at home, Jarmoc said.
A bright spot in this pandemic: for people who need to file a restraining order, it is now possible online.
Thanks to an April 3 ruling by the Honorary Michael Albis, the state's chief administrative judge of family matters, restraining orders can be filed remotely at https://jud.ct.gov/remote_restrain.htm.
In this time of crisis, advocates are still available to help 24/7 at CTSafeConnect. All services are confidential, safe, free and voluntary. Call 888-774-2900.
Erica Drzewiecki can be reached at edrzewiecki@centralctcommunications.com.
Source: New Britain Herald; 'Stay Safe, Stay Home' has little meaning to victims of domestic violence, but there is help in area for those in need. 
Read More