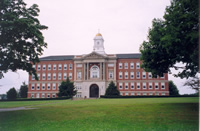 New Britain, CT – With tremendous admiration and appreciation, Prudence Crandall Center (PCC) announces the retirement of Board of Directors member Mary Healey, JD after 18 years of dedicated service to the organization.  Healey joined the Board in 2003 and helped lead the agency during a period of expansion and transformative change.  Drawing on her commitment to the local community and her extensive professional experience, including 10 years as the Consumer Counsel for the State of CT, Healey consistently delivered intellect, passion, and expertise to the PCC Board.
Taking the helm after the late Tony Garro, Healey dedicated her time and talent as the PCC Board President from 2009-2012.  As Board President, Healey set PCC on a path of growth and development, helping to open PCC's ground-breaking supportive housing programs, which offers victims and their families a safe, stable, and affordable home after seeking shelter.  Reflecting on her time on the Board, Healey commented, "My service at PCC has been personally meaningful to me and my family.  I've been honored to be part of an agency that continues to be a leader in a critically important field where it truly saves and transforms lives."
Among her many talents, Healey was an incredible relationship builder and fundraiser for PCC.  Healey helped shepherd PCC's successful Bright Futures capital campaign in honor of the agency's 40th anniversary.  A tireless advocate for PCC, Healey forged incredible connections within the local community and built a dedicated base of supporters for the agency.  Looking towards the future, Healey expressed her unwavering commitment to the cause and the organization. "I know my family and I will continue to be part of the PCC family, supporting its work.  I encourage others to do so as well because this agency has had a tremendous impact over the past 50 years, but there is still much work to be done."
Current PCC Board President Michelle Rosa remarked, "Never one to shy away from the tough questions, Mary encouraged fellow Board members to lead with their heart and make a positive impact.  Mary will truly be missed on the Board, but we appreciate her continued support as a PCC advocate in our community."
During PCC's most recent Annual Meeting, Board member and Bristol resident Dave Rackliffe (retired Chief Information Officer for Bristol Hospital) was elected Board Treasurer.  Rackliffe brings a wealth of experience to the position and looks forward to leading continued financial growth for the organization.  PCC thanks Lucia Chubet (Partner, Mugford & DiBella, LLC) for her dedication and leadership as outgoing Board Treasurer and is grateful for her continued commitment as a Board member engaging our Southington community.  Joining the Board this year are three new Board members who bring additional critical talent and expertise to the agency's Board – Brandy Little (Travelers), Brenda Moore (Bristol Housing Authority), and Mary Smith-Floyd (City of New Britain Community Services).
PCC President & CEO, Barbara Damon, commented, "I am incredibly grateful to Mary and the rest of our Board for their leadership and commitment over the past two years, which were particularly challenging for our community and our agency.  Their diversity of skills and experiences, coupled with a passion for our mission, made the impossible possible during the pandemic and enables us to move forward."
For more information, contact Sarah Hawkes at 860-259-3824 or shawkes@prudencecrandall.org
********************
Prudence Crandall Center was the first domestic violence program in our state and is the only program serving the communities of Bristol, Berlin, Burlington, Kensington, New Britain, Plainville, Plymouth, Southington and Terryville, with 28 units of supportive housing program open to survivors from throughout the state. Services include a 24-hour crisis hotline, emergency shelter, transitional and permanent supportive housing, court advocacy, counseling, and community education and prevention services. For additional information about Prudence Crandall Center or to donate, please visit www.prudencecrandall.org. To access the 24-hour hotline, call toll-free 888-774-2900. All services are free and confidential.
###
Read More