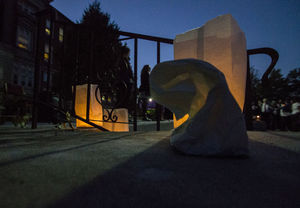 NEW BRITAIN — Like shelters for victims of domestic violence around the state, the Prudence Crandall Center has been running at, or over, capacity consistently for at least the past year and a half.
It's a trend that has been escalating since 2008 and it doesn't appear to be subsiding, said the center's executive director, Barbara Damon.
"The need has continued to grow and that's happening statewide," Damon said.
Not only has the demand for shelter statewide increased 125 percent since 2008, the demand for services including support groups, court advocacy, counseling, safety planning and basic needs has also risen.
"The number of domestic violence victims seeking safety in our emergency shelters has grown immensely over the past eight years," said Karen Jarmoc, chief executive officer for the Connecticut Coalition Against Domestic Abuse, the umbrella agency that encompasses the state's 18 domestic violence programs, including Prudence Crandall.
"Our shelters were at 57 percent capacity in FY (fiscal year) 2008 and now we're at 125 percent. These women, men and very young children have nowhere safe to go. We are continuously reviewing strategies to sustain this life-saving service," she said.
Prudence Crandall Center runs a 22-bed shelter, transitional housing and permanent housing for individuals and families seeking to escape abuse and move on with their lives. It also offers support groups, counseling, court advocacy and other services for victims in New Britain, Plainville, Southington, Bristol, Plymouth, Kensington, Burlington and Terryville.
Damon admitted that she doesn't have a concrete answer as to why the need for shelter has increased so much in the past eight years. "I haven't seen anything to indicate that there is more violence," she said.
But there has been more education and more awareness that services are available — from counseling to shelter — and a push by local police departments to use a lethality screening tool when they respond to a reported domestic violence incident. About half the police departments in the state use the tool, which is a set of 11 questions for the victim to determine the potential lethality of the domestic relationship.
Police can call the state's 24-hour domestic violence hotline to help victims arrange for emergency shelter based on the tool, Damon said.
An average of 14 people a year have died from 2000 to 2014 in Connecticut as a result of domestic violence, according to information gathered by the state's fatality review board. In the past few years, however, the number has gone down to 11 or 12.
"Lethality screening hopefully has contributed to fewer deaths," Damon said.
All victims seeking emergency shelter must go through the hotline. Victims don't need to be referred by police or by the state's 211 system which helps residents seeking shelter of any type find emergency housing.
Damon said the key to reducing the need for emergency domestic violence shelters is to stop the cycle of domestic violence through education and awareness. "I know we have to address the trauma of domestic violence for victims and their children," she said. "But we also need to be in the schools and to provide programming for youth on healthy relationships."
But with the state facing another year of budget deficits, Damon is concerned about cuts and what less money would do to a shelter system that is already over-stressed. "Any cut at this point would mean a cut in services," she said.
About 25 percent — $450,000 — of the agency's budget comes from donations. The reality is it needs more, Damon said, to continue to work within the community to help victims and provide education and awareness to stop the cycle of domestic violence. "We need that amount in donations just to keep on doing what we're doing," she said.
If you need help with domestic violence, call the state's 24-hour hotline at 888-774-2900. Services are free and confidential.
To donate to Prudence Crandall, visit prudencecrandall.org.
Source: Shelter executive: Domestic violence a stubborn problem
Read More